10 Gravity hills and magnetic hills around the world
A gravity or magnetic hill is a place where a slight downhill slope appears to be an uphill slope due to the layout of the surrounding land, creating the optical illusion that water flows uphill or a car left out of gear will roll uphill, among others. Many of these sites have no specific name and are instead often simply referred to as "Gravity Hill" or "Magnetic Hill".
1. Australia
Orroroo Magnetic Hill
2. Brazil
Belo Horizonte, Minas Gerais, Rua do Amendoim, urban street whose name is Portuguese for "Peanut Street"
3. Canada
Chartierville Magnetic Hill
4. India
A Border Roads Organisation Himank sign near the Magnetic Hill in Ladakh, India
5. Ireland
County Louth: Cooley Peninsula, north of Dundalk, known locally as Magic Hill
6. Kenya
Kaloleni near Ngelani, famous for "water flowing against gravity". It is located on Kituluni Hill, a few kilometres east of Machakos town.
7.
Oman
Salalah, Anti-Gravity Point
This road is situated between a mountain and the ocean. It's called the Anti Gravity road or Magnetic Road. When we parked the car in neutral and disengaged the brakes, the car started climbing uphill. And on level road, it gained momentum continuously. There is said to be a magnetic pull that exists between th ocean and the mountain.
8. Poland
Żar Mountain (Pol. Góra Żar, also called Magiczna Góra) - a small mountain in Little Beskids in southern Poland; there is a road segment ca. 200 meters long circling the mountain where "cars roll uphill"; there are online videos documenting this optical illusion.
9. South Korea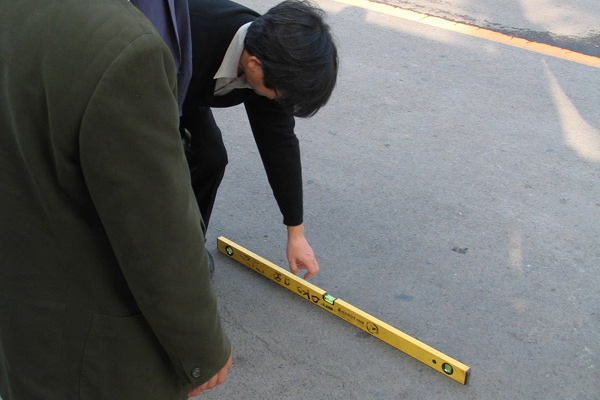 Jeju Island, Dokebi Road ("Mysterious Road")
10. U.S.
Spook Hill is a gravity hill (an optical illusion where cars appear to roll up the spooky hill) in Lake Wales, Florida.
Spook Hill received national media attention when an article about it appeared on the front page of the Wall Street Journal on October 25, 1990, and it was featured in a segment on CBS Morning News with Charles Osgood on November 5, 1990.
Source:
General List of gravity hills in wikipedia.org
http://en.wikipedia.org/wiki/List_of_gravity_hills